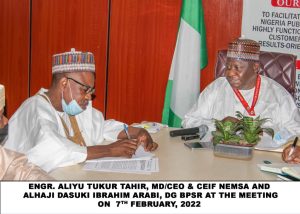 Engr. Tukur Tahir Aliyu is the substantive Managing Director/CEO of the Nigerian Electricity Management Services Agency (NEMSA) & Chief Electrical Inspector of the Federation
Before his confirmation on the 31st of December 2021, Engr. Aliyu Tahir was the General Manager/Head Technical Standards and Inspectorate Services of NEMSA, which ensures through its Inspectorate Field Offices spread nationwide that the Country's electrical installations and equipment/materials employed in the installations are of right quality, standard and can deliver safe, reliable and adequate power supply to the citizenry.
With more than 29 years of working experience in the power sector, Engr. Aliyu has a bachelor's degree in Electrical and Electronics Engineering from the Abubakar Tafawa Balewa University, Bauchi. He is a fellow of the Nigerian Institute of Power Engineers (NIPE) and also member of the following Professional Bodies; The Nigerian Society of Engineers (NSE) and the Institute of Electrical and Electronics Engineers (IEEE). He is also a registered Engineer of the Council for the Regulation of Engineering in Nigeria (COREN).
He has worked as an Engineer with the Yobe Broadcasting Corporation, Damaturu, and in 1993 joined the Federal Civil Service where he rose to the position of Deputy Director, Electrical Inspectorate Services Department.
During the Power Sector Reform Programme of the Federal Government, he served as the Secretary of the Presidential Task Force on Power (PTFP) that oversaw the reform program before his deployment to EMSL which is now NEMSA by the virtue of the NEMSA Act, 2015 as the GM/Head Technical Standard and Inspectorate Services Department.
Engr. Aliyu has been trained both within and outside the shores of the Country, some of which include the following; Public Sector Budgeting; Budget Implementation; Electrical Supply Regulations; Management of Energy Utilization and Conservation; Rural Electrification and Small Hydro Power Plant Design and Operations; Modern Practices in Generation and Transmission Systems; Protective Devices Co-ordination; Electrical Safety for Inspectors; Public Private Partnership; Latest Development in Electrical Test & Measurement; Advance Course on Project Management; PURC Regulatory Training Courses; RETScreen Certified Candidate in Training; and has also attended and participated in various conferences.